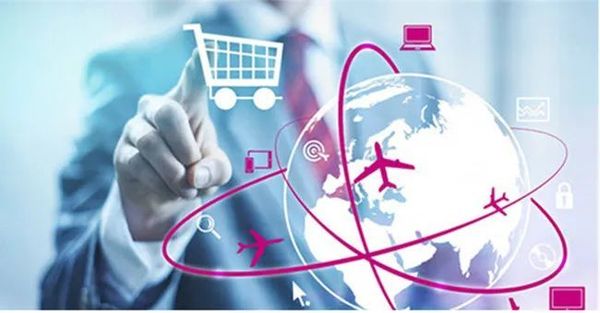 New features of the digital era of trade
Compared with traditional trade, the digital stage of trade aims to tap the added value of the entire trade chain. It not only realizes "open source for new customers", but also the data precipitation of each link is the unique digital assets and financing credit of businesses.
First, digitalization broadens trade boundaries. In the digital era of trade, the number of tradable products has increased significantly, online and electronic orders have become the mainstream, showing more personalized, small and small "zero order trade" characteristics, and the trend of high-frequency, fragmented, online and wireless is becoming a new feature. The digitalization of trade helps enterprises to realize the interconnection of trade networks, improve the connectivity of trade networks and the resilience of supply chains, continuously compress the intermediate links, increasingly show the characteristics of flattening, and constantly promote new trade formats and models.
Second, the platform plays an increasingly important role. In the era of digital trade, the cross-border trade service platform is often taken as the center to build an ecosystem including producers, suppliers, wholesalers, distributors, retailers, consumers, logistics providers and government regulators, organically integrate cross-border commodity circulation and related logistics, finance, information, payment, settlement, credit collection, taxation and other supporting services, and collect foreign exchange through an efficient and transparent customs clearance system The comprehensive foreign trade service of tax refund realizes the closed-loop process from seeking business opportunities to fulfilling transactions through the new supervision mode of informatization, data and intelligence and the one-stop cross-border supply chain service system. The platform has also transited from trade information display platform and online transaction service platform to trade industry chain integrated service platform, which can help the settled enterprises understand the market demand in real time and guide them to carry out R&D and production work. At the same time, enterprises also use platform data to deeply analyze consumer behavior, reduce transaction costs in search of supply and demand, matching supply and demand, negotiation, credit, customs clearance and logistics, not only increase the breadth and density of foreign trade transactions, but also help enterprises establish credit and reduce cross-border transaction barriers.
Third, digitalization has an important impact on the way goods are delivered. Large quantities of goods can be delivered directly through digital means, or through new international logistics methods such as live broadcast with goods, unified allocation and shipment from overseas warehouses.
Trade digitalization runs through the whole trade link
Trade digitalization can package the whole process links in the digitalized foreign trade business process, such as business opportunity acquisition, order negotiation, order generation, customer management, commodity management, sample delivery, transaction settlement, export customs declaration, cross-border logistics, balance payment collection and export tax rebate, and help SMEs eliminate complex international trade rules, standards and legal processes through the intensive use of resources.
First, the customer seeking stage. Through the algorithm, rules, ranking traffic, 3D manufacturing of big data and other customer search strategies to improve the acquisition of orders, analyze the consumption demand of foreign markets and their supply chain system, make quantitative analysis and trend prediction on changes in consumption behavior of overseas markets, and significantly reduce the cost of traditional exhibition marketing and overseas location marketing with the help of precision marketing. At the same time, offline booths can also be presented through online live broadcast, involving VR (virtual reality) exhibition halls, 3D simulation and other diversified ways, and offline factories, stores and applications can be shown live in the cloud.
Second, the stage of transaction negotiation and order acquisition. Foreign trade enterprises, in accordance with their data fusion and cloud computing capabilities, learn machine algorithms based on massive behavioral data of importers and exporters, such as data consultants, intelligent stores, digital official websites, and intelligent laboratories, to accelerate the communication and collision between buyers and sellers, and improve the success rate of negotiations.
Third, domestic production and supply stage. Through the product display of the cross-border trading platform, the supply side and the demand side are effectively connected, which also promotes the production capacity and inventory level of manufacturers to be more precise with the consumer demand of importers based on digital technology, so that production and manufacturing are more flexible.
Fourth, the choice of comprehensive trade service providers. The one-stop comprehensive foreign trade service focuses on the Internet, big data and informatization. The international trade platform and its linked market service providers can provide various high-quality and convenient services, such as virtual display, trade authenticity review, customs clearance and transit, payment and settlement, financial credit, credit evaluation, international logistics, fiscal and tax agency, etc.
Fifth, payment settlement stage. Trade digitalization also relies on relevant trade platforms to build a cross-border supply chain service system of global payment and settlement, digital customs and logistics, and build a reliable, transparent and efficient global payment computing financial network through technological innovation.
Sixth, logistics clearance stage. By supporting diversified transportation modes, such as sea transportation, air transportation, land transportation and express delivery, and combining customer needs, we recommend appropriate transportation methods and routes, so that the whole process can be seen after placing an order, helping customers to deliver goods conveniently. With the help of the one-stop customs declaration platform of artificial intelligence and cloud technology, it can save 60% of the customs clearance cost, greatly improve the accuracy, promote the facilitation and intelligence of trade and customs clearance, and quickly verify the main links of export tax rebate through the risk control platform established by the blockchain technology and the government to speed up the tax rebate process.
Big data can be more accurately used in foreign trade transactions
By combining foreign trade big data and search channels such as Google, Facebook, Amazon, LinkedIn, and SNS to search customers and markets, foreign trade enterprises can better understand the major production and marketing countries and their proportions of the main products operated by the company in the world, measure the competitiveness and complementarity of the major business industries with major trading partners, and make statistics of major countries Changes and trends in the number of major customers, analysis of relevant policies and changes of major trading partners, expansion of research on new markets, and layout of market diversification in advance. Through data simulation, it accurately calculates the types, quantities and country allocation of major foreign demand markets, as well as the layout of overseas warehouses and the quantity of goods needed. Through software, it timely obtains data such as price, inventory, scrap, production, sales, ordering, on-time delivery rate and product quality assurance performance. The big data of foreign trade has increasingly become an important weapon for relevant enterprises to better explore the international market, further reduce transaction costs and improve transaction accuracy under the dual dilemma.